Pedaling Paws 2012
Hunting for Sponsors!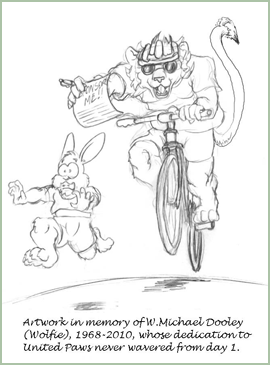 Our very own Alondro the lion is doing his best to gather sponsors for the bike-a-thon this year. Alas! He fails to realize how imposing a lion can be!
Due to the unfortunate tendencies of leonine nature, poor Alondro is going to have difficulty getting people to stop fleeing long enough to sign up for a donation, but weíre sure youíll find our company president, Charles de Charleroy, Jr. far less ferocious! Please sponsor his ride all around the mysterious landscape of the Pine Barrens in central and southern New Jersey.
Hello! Charles de Charleroy, Jr. here, and thanks for your support! As always, every $10 donated will add 1 mile to my trip. I should also mention that thereís no limit to the number of miles I may end up biking! I discovered after last yearís astounding total of 212 miles that I can handle far longer trips now that Iím in good shape! So this year Iím setting the goal at 200 miles, which will be broken up into at least 2 days, biking during daylight hours only (Itís not wise to bike at night!).
In-person donation types (for local donors and conventioneers)
Info for those coming along on the ride!T-shirts!
Video clips of my trip will be available on YouTube starting in November, 2012.
You can sponsor me via the donation form or through our PayPal address or sent directly to unitedpa@unitedpawsstudios.org.
Important for PayPal Users: Please indicate that your donation is for Pedaling Paws 2012 in your Paypal message, along with any request for a donation receipt.*
Donations over $20 will automatically be sent an electronic receipt if the donorís email address is provided; or a paper copy if the donorís mailing address is provided. For donations totaling less than $20, please provide a receipt request notice with your donation, along with a name, address, and phone # or email if a hard copy donation receipt is desired. All receipts will be sent via email when an email address is given unless otherwise specified by the donor. Paper receipts will not be mailed for donations totaling less than $10 without additional postage.