Charles R. de Charleroy, Jr.
President of United Paws Animations, Inc.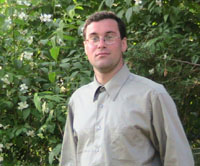 Charles R. de Charleroy, Jr. is an odd sort of fellow! As a graduate of Biology with a Masters Degree, founding and becoming the president of a not-for-profit animation company isnít generally what one would expect as a career choice! But Charles has always enjoyed animated cartoons and believes there are still many directions in which production animation can go to grow and develop; trails of tales left as yet unexplored and tantalizing techniques to try. Charles wishes to work on cartoons with more dramatic storylines and develop plots and characters with great emotional depth and development, as well as experiment with themes and media rarely utilized by the major studios, while also inventing innovative animation techniques along the way.
Charles whole-heartedly believes animation is a genuine art form with almost limitless bounds; for if a picture is worth a thousand words, how many more words are spoken by a hundred thousand pictures. This is the main reason for which the first two projects United Paws Animations produces will have no spoken words other than those present in the music; simply to allow the animation to speak for itself.
With United Paws Animations, Inc., Charles hopes to take animation to many new and fascinating places and to bring life to the world of dreams, explore fantasies and fears, delve into love and loss, and build vast lands of villains and valiance.