United Paws Animations, Inc.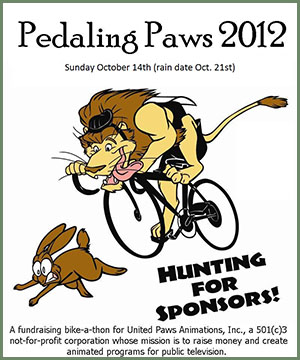 Pedaling Paws 2012: Hunting for Sponsors!
Our very own Alondro the lion is doing his best to gather sponsors for the bike-a-thon this year. Alas! He fails to realize how imposing a lion can be!
Welcome to United Paws Animations, Inc.
Hello and welcome to the United Paws Animations, Inc. Web site! We're a not-for-profit company dedicated to furthering the art and originality of animation; promoting creativity, innovation, and emotion in what we feel is one of the best media available for visualizing imagination.
Allow me to introduce myself. I'm Charles de Charleroy, Jr's, founder and president of United Paws. I'd like to personally invite you to browse our gallery, which currently contains the works related to our first formal animation project, "A Day of Dreams". As you will see, though United Paws is small in size, we're big on talent and I'm very proud to be working with the team of artists and animators who've signed on.
We'll frequently add to the production pages as our project progresses, so be sure to check in regularly for updates! Also, do please take a gander at the sales and auctions page to see what we're offering from week to week.
If you're feeling particularly generous, donations are accepted (currently via PayPal only). And remember, since United Paws Animations, Inc. is a 501(c)3 corporation, your donations are tax deductible.
Welcome to United Paws Animations, Inc. and I hope you enjoy your visit.
Sincerely,
Charles R. de Charleroy, Jr., President